Dutch Process Cocoa Pear Cake
I like to use Dutch Processed cocoa when I bake. I also like an excuse to use the phrase "Chelating Agent".
This cake is dense, moist and Low GI, full of fibre and perfect for breakfast with strong coffee.
You will need:
80g softened butter
80g soft brown sugar, some extra for sprinkling
2 eggs
quarter teaspoon cinnamon
pinch of allspice
half teaspoon of vanilla essence
125g almond meal
125g wholemeal self raising flour
50g Dutch processed or Chelated cocoa powder
50g yogurt
175ml milk
2 large Beurre Bosc pears, peeled cored and sliced
( although tinned pears also do very well here)
If you use tinned pears, reserve 60mls of the juice
an extra tablespoon of brown sugar
a tablespoon of cream
8-9 inch square cake tin lined with baking parchment
oven set to 170 degrees C.
Method:
Cream the butter and sugar together with electric beaters
Add the eggs one at a time and beat until combine
Add the milk, yogurt and vanilla essence
Add the dry ingredients, making sure to sieve the Dutch Processed cocoa
Mix well by folding with a spatula
Transfer to lined cake tin and smooth down evenly with a spatula
Press the pear slices into the surface and sprinkle with extra brown sugar*
Bake in the centre of the oven for 45 minutes*
Remove and let stand in the tin for 15 minutes
Transfer to cooling rack, remove baking parchment
Keep cake refrigerated and sealed for up to 5 days
* If using tinned pears you can put on a glaze by reducing the extra sugar, cream and juice until it bubbles and pouring it over the top of the cake at the end of cooking time, still let it stand in the oven for 15 minutes.
*If this wasn't a Tuesday night in suburban Perth with kids running in and out of my kitchen I would be poaching these pears in a calvados syrup first.
So what is so special about the Dutch Process?

All cocoa powders are not equal and the trick is to know when to use which type. Dutch processed cocoa (let's call it DPCP from now on) is more alkaline than the naturally processed type, clocking up a pH value from 6.5 – 8. This makes it unsuitable for use in recipes with bicarbonate of soda as the chief raising agent. Bicarbonate of soda relies on the acidity of ordinary cocoa powder to release the carbon dioxide. DPCP is best for dense, moist cakes, and indeed this one is heavy on the  almond meal and will never produce an open, risen crumb.
DPCP gives a distinctly European flavour, in that it is not a showy, overbearing chocolate flavouring. It works well in recipes which combine other flavours and textures like this one. It is often referred to as having a "milder" flavour than its naturally processed counterpart, however many cooks like to think of it as a more "generous" ingredient as it does not steal the flavour limelight from other members of the ingredient cast but supports them with a distinct chocolate flavour.
In the world of the pro-pastry chef the functional properties of  DPCP are greatly valued. It is highly soluble which means that it disperses  readily in to  wet preparations such as custards, creams and mousses. Pastry Cheffing is, as we all know, a precise scientific art and even the small amount of liquid needed to dilute natural cocoa powder could alter the structure and function of a recipe.
Origins of the Process
Most chemical processes in food manufacture have been developed from  a need to maintain quality, prolong shelf life and make the product go further. Imagine it is 1828 and Dutch Caco plantation owner Casparus van Houten is weeping quietly as he receives news from Rotterdam that his product had arrived in a state of rancidity, again, and would not fetch the premium price he was hoping for, again. Also, word in the coffee houses of London has it that his product is not easily to dissolve nor digest.
Caspsarus must find a way to prevent the fat portion of the cocoa mass losing its double bonds, reacting with ambient oxygen molecules and producing a foul smelling cocktail of ketones, aldehydes, carboxylic acids and alcohols.
He must remove the pro-oxidants, or metal ions that attract the oxygen molecules, from his cocoa beans and for this he must use a Chelating Agent. Vacuum packaging, impermeable wrappings and relative humidity control are not available to van Houten.
He looks around his plantation, hopefully taking stock of the no doubt dreadful labour conditions and making immediate amends, and gets busy with water leached from wood ash aka potash. The water is evaporated and the resulting white salts are pottasium carbonate  (K2CO3) aka the Ideal Chelating Agent.
He applies this to pulverised cocoa beans after their cocoa butter has been removed. Now he has a stable product which maintains its perfume, can be mixed readily in to beverages and meets consumer demands in Europe.
The health-food market was highly valuable and competitive in the 19th century and cocoa was known as a restorative and fortifying food. Casparus van Houten markets his new process like this:
"The most eminent European Analysts and Doctors certify that Van Houten's Patent Process, a secret of the firm, increases by 50% the solubility of the flesh-forming elements, highly developomg the digestibility, strength and natural flavour and aroma."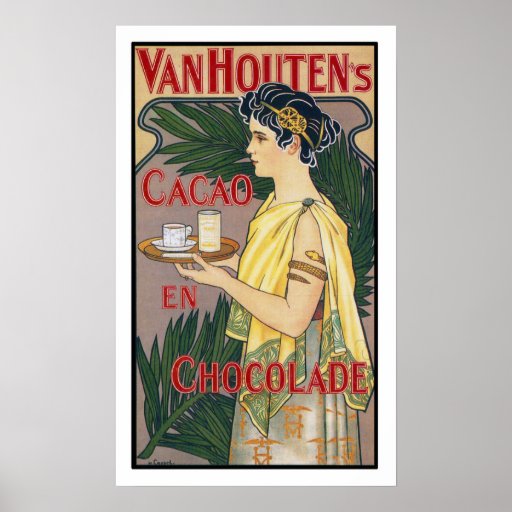 He also plays up the Dutch element
and this design from WWI is still used to market DPCP in gourmet retailers
DPCP has its detractors
The Americans call the Dutch process Alkinization, which is of course far less fun than saying Chelated, and some of them are worried that the chemical process strips cocoa of its natural health benefits and that we should not eat it.
However, cocao is one of the richest dietary sources of anti-oxidants and flavanoids (for cardio-vascular health) available coming only slightly below the superfoods buckwheat, sorghum and cinnamon in the rankings. (1).
In 2008 a study in the Journal Of Agricultural And Food Chemistry looked at the impact of the Dutch process on the anti-oxidant and flavanol content of commercial cocoa powders (2.)  It concluded that despite the loses from light and medium alkali processing those cocoa powders are still in the top 10% of measured food with detectable flavanols.
And if you are really worried you are missing out on your anti-oxidants scatter a little ground cinnamon on to the yogurt or double cream you take with your Dutch Cocoa Pear Cake and enjoy it.
References;
1. USDA Database for the Proanthocyanidin content of selected foods;http://www.nal.usda.cov/fnic/foodcomp.
2. Impact of alkalization on the antioxidant and flavanol content of commercial cocoa powders, Miller, KB ; Hurst, WJ ; Payne, MJ ; Stuart, DA ; Apgar, J ; Sweigart, DS ; Ou, BX, Journal Of Agricultural And Food Chemistry, 2008, Vol.56(18), pp.8527-8533 [Peer Reviewed Journal] Identifier: ISSN: 0021-8561 ; DOI: 10.1021/jf801670p